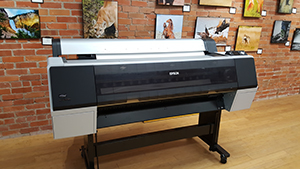 Using Epson wide format printers we produce the finest professional prints in sizes up to 44" wide. Standard sizes, custom crops and panoramas are all available. Refer to the attached standard size print pricing guide or give us a call for a custom quote on other sizes.
Combining the Epson ULTRACHROME HDX archival ink system with Moab papers ensures the highest possible d-max and color holdout producing quality color tones that go beyond the average print.
Papers and Canvas:
Moab, Epson & Hahnemühle Archival Papers
Epson UltraChrome HDX archival ink:
Incorporating high density pigments, Epson UltraChrome HDX produces prints with an extremely wide color gamut allowing the reproduction of colors that were originally envisioned at the point of capture. With its expanded color gamut and breakthrough 10-color system, no other ink set can reproduce the three dimensional lifelike quality and stunning photographic feel of Epson UltraChrome HDX.
Utilizing a unique three level black ink technology, Epson UltraChrome HDX ink significantly improves overall gray balance while enhancing midtone and highlight detail yielding a smoother tonal range. And by virtually eliminating metamerism and bronzing, both black and white and color prints can be produced with the look and feel of a traditional photograph while utilizing all the advantages of a digital workflow.
Please support your local merchants.