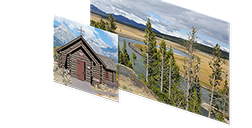 About Us
About Us
Located in Cheyenne, Wyoming, Artizen Photo Printing has been serving clients in a multi-state area since 2010. We take pride in helping to revitalize Cheyenne by providing a specialized service with unrivaled expertise in the Cheyenne Community. For those of you in other areas, we ask that you please support your local merchants, but we welcome clients from around the globe that may not have access to fine art printing services in their own local area. We invite you to see what Wyoming's Finest Print Shop can do for you.
Artizen Photo Printing was born out of the necessity to help the Denver Area find a business that produced high quality Giclee prints. From that point on Artizen Photo Printing has added Print / Film Scanning, and Photo Restoration. We returned to Wyoming in 2013 and are proud of our Wyoming heritage.
We print custom sizes and panoramas! Call for a quote.