General Information
A true Giclee will have a life span of 150 years or more when properly cared for by the owner. To determine if the Giclee is authentic, the type of ink and paper it was printed on shoould be indicated. It should also indicate the kind of printer that was used.
Types of Paper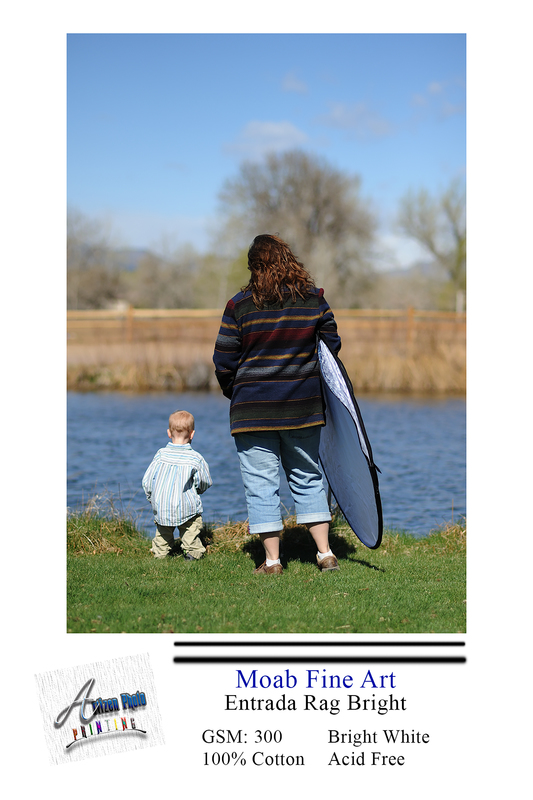 Moab Entrada Rag Bright (300gsm)
Entrada made the Moab brand famous. Entrada Rag Bright 190 is a double-sided award-winning art paper made of 100% cotton and exhibits a bright surface to bring your vision to life. This naturally acid free and lignin free paper offers an expanded color gamut, maximum contrast and high ink load.
Size:
Price:
Size:
Price:
Size:
Price:
Moab Entrada Rag Textured (300gsm)
Entrada Rag Textured 300 is the first new addition to the renowned Entrada family in over 10 years. Its subtle texture and warm tone exhibits the same superb Entrada printing qualities that put Moab on the map almost 15 years ago. The wide tonal range and high dMax remains unparalleled for a cotton matte paper. The defined, yet restrained, texture enhances the printed image without being distracting. Entrada Rag Textured 300 is a 100% cotton, single-sided, 300gsm, OBA-free paper.
Size:
Price:
Size:
Price:
Size:
Price:
Moab Lasal Photo Matte (230/235gsm)
The double sided Lasal Photo Matte from Moab is water-resistant, as well as pulp-, acid-, and lignin-free. The paper's brilliant white guarantees that your photos will be true to life color. The innovative coating produces ultra-consistent image reproduction with instant dry-time allowing prints to be handled immediately without fingerprints or scuffing, making the paper ideal for portfolios and limited edition books where the prints encounter frequent handling.
Size:
Price:
Size:
Price:
Size:
Price:
Moab SlickRock Metallic Pearl Paper (260gsm)
Designed for photographers seeking to enhance their images with a metallic look, Slickrock Metallic Pearl 260 transforms an image into life like, almost 3D quality. Black & White images shine on this new paper producing deep dark blacks and ultra-bright highlights. The paper's high gloss and unique sheen make this ideal for everyday prints with a twist.
Size:
Price:
Size:
Price:
Size:
Price:
Hahnemühle FineArt Baryta Satin (300gsm)
FineArt Baryta Satin is a barite paper with a white and satin-gloss surface. The amount of barium sulphate in the coating in conjunction with a micro porous ink receiver layer provides exceptional image results with large colour gamut and intensive colouring in the print. FineArt Baryta Satin enables extremely deep blacks (Dmax), excellent image sharpness and is perfect for black-and-white photography. High colour density and brilliance ensure an outstanding sharpness of details to achieve high-resolution and vivid images for photography and reproductions. The 100% α-Cellulose paper is acid free.
Size:
Price:
Size:
Price:
Size:
Price:
Moab Lasal Exhibition Luster (300gsm)
Lasal Exhibition Luster is a true heavyweight, archival exhibition-quality luster paper, designed for use with all inkjet printers. The paper is coated with the latest fourth-generation technology to produce an extra-wide color gamut never before seen in a luster paper. Named after the LaSal mountains, whose snowy peaks tower above Moab keeping watch on the canyon lands below, Lasal Exhibition Luster remains true to its namesake, incorporating many of the elements found in the surrounding Moab environment: pure crispy whites and deep luscious colors.
Size:
Price:
Size:
Price:
Size:
Price:
Epson Exhibition Canvas Matte (395gsm)
An acid free, lignin free heavyweight cotton-poly blend, this elegantly textured canvas features a matte non-reflective surface with a bright white point, exceptionally high Dmax and wide color gamut. The canvas base is enhanced with elastic polymers providing high tensile strength and flexibility for gallery wrap stretching without cracking.
Size:
Price:
Size:
Price:
Size:
Price:
Custom Print Sizes:
We print custom sizes and panoramas!
Please support your local merchants.
(307) 514-3404